NORML Chapters around the country are currently organizing efforts to engage their representatives on the issue of marijuana law reform during the upcoming congressional recess where members of the House and Senate will host town hall meetings in their districts. In addition to providing unique opportunities for face-to-face interactions with congressional representatives, town hall meetings provide our volunteers the chance to promote NORML's message of ending the federal prohibition of marijuana to an audience of politically engaged voters.
With the help of Town Hall Project, a nonprofit organization that's focused on empowering constituents across the country to have face-to-face conversations with their elected representatives, we have identified almost a dozen town hall meetings taking place in cities with strong NORML representation. To take advantage, NORML leadership is focused on mobilizing our supporters to ask specific questions and encourage their representatives to support legislation that will: protect consumers and businesses in legal marijuana states, expand access to medical marijuana for veterans, stop civil forfeiture and end the federal prohibition of marijuana.
Below is a list of town hall meetings that NORML Chapters will be targeting. We will continue to update the list as new town hall meetings are announced:
(Updated: 8/14/2017)
Rep. Ruben Kihuen (Democrat, NV-4)
Tuesday Aug 1, 2017 at 09:00 AM
Walnut Community Center
3075 N Walnut Rd, Las Vegas, NV 89115
Rep. Dana Rohrabacher (Republican, CA-48)
Tuesday Aug 1, 2017 at 6:30 PM
Aliso Niguel High School Gym
28000 Wolverine Way, Aliso Viejo, CA 92656
Rep. Bradley Byrne (Republican, AL-1)
Thursday August 3 2017 at 3:00 PM
Gulf Shores City Hall
1905 W 1st St, Gulf Shores, AL 36542
Rep. Steve Cohen (Democrat, TN-9)
Saturday August 5, 2017 at 10:00 AM
Memphis College of Art
1930 Poplar Ave, Memphis, TN 38104
Rep. Will Hurd (Republican, TX-23)
Sunday August 6, 2017 at 1:00 PM
Horizon City Dairy Queen
800 N Zaragoza Rd, El Paso, TX 79907
Rep. G.K. Butterfield (Democrat, NC-1)
Tuesday August 8, 2017 at 6:00 PM
Bertie High School
716 US-13, Windsor, NC 27983
Rep. Donald Norcross (Democrat, NJ-1)
Wednesday August 9, 2017 at 7:30 PM
Carmen Tilelli Community Center
820 Mercer St, Cherry Hill, NJ 08002
Rep. Glenn Thompson (Republican, PA-5)
Thursday, August 10, 2017 at 8:00 PM
WPSU
100 Innovation Blvd, University Park, PA 16802
Rep. Adam Smith (Democrat, WA-9)
Saturday August 12, 2017 at 10:00 AM
Foster High School Performing Arts Center
4242 S 144th St, Tukwila, WA 98168
Derek Kilmer (Democrat, WA-6)
Sunday August 13, 2017 at 2:00 PM
Aberdeen High School Auditorium
410 N G St, Aberdeen, WA 98520
Jimmy Panetta (Democrat, CA-20)
Monday August 14, 2017 at 6:00 PM
California State University Monterey Bay World Theater
5260 6th Ave, Seaside, CA 93955
Senator Maria Cantwell (Democrat, Senate)
Tuesday August 15, 2017 at 6:00 PM
Gonzaga University, Cataldo Hall, The Boone Room
502 E Boone Ave, Spokane, WA 99258
Rep. Patrick T. McHenry (Republican, NC-9)
Wednesday, August 16, 2017 at 6:00 PM
Cleveland Community College – Mildred Keeter Auditorium
137 S Post Rd, Shelby, NC 28152
Rep. Gary Palmer (Republican, AL-6)
Thursday, August 17, 2017 at 6:30 PM
North Highlands Baptist Church
4851 15th Street Rd, Hueytown, AL 35023
Rep. David Scott (Democrat, GA-13)
Saturday August 19, 2017 at 09:00 AM
Mundy's Mill High School
9652 Fayetteville Rd, Jonesboro, GA 30238
Rep. Trent Franks (Republican, AZ-8)
Tuesday August 22, 2017 at 7:00 AM
The Colonnade
19116 N Colonnade Way, Surprise, AZ 85374
Rep. Tom Rice (Republican, SC-7)
Chapin Memorial Library Meeting Room
Tuesday August 22, 2017 at 10:00 AM
400 14th Ave N, Myrtle Beach, SC 29577
Rep. Bradley Byrne (Republican, AL-1)
Wednesday, August 23, 2017 at 3:00 PM
John L. LeFlore Magnet High School,
700 Donald St, Mobile, AL 36617
Rep. Danny K. Davis (Democrat, IL-7)
Thursday August 24, 2017 at 7:00 AM
Oak Park Village Hall
123 Madison St, Oak Park, IL 60302
Rep. Rodney Davis (Republican, IL-13)
Friday August 25, 2017 at 8:30 AM
Litchfield City Hall
120 E Ryder St, Litchfield, IL 62056
Rep. Ami Bera (Democrat, CA-7)
Tuesday August 29, 2017 at 10:00 AM
Folsom Public Library
411 Stafford St, Folsom, CA 95630
Rep. Jim Sensenbrenner (Republican WI-5)
Saturday September 9, 2017 at 1:00 PM
Elm Grove Village Park
13600 Juneau Blvd, Elm Grove, WI 53122
To support these efforts, NORML has prepared a guide to town hall meetings, as well as a list of questions specific to each representative. If you would like to participate or want a copy of either document, please email chapters@NORML.org.
Tags:
2017
,
Activism
,
Advocacy
,
advocate
,
AZ
,
CA
,
Citizen Lobbyists
,
Community
,
Community Organizing
,
congress
,
discussion
,
efforts
,
GA
,
Grassroots
,
law
,
marijuana
,
marijuana law reform
,
NC
,
NORML
,
NORML Chapters
,
NV
,
PA
,
prohibition
,
representatives
,
Saturday August
,
SC
,
TN
,
town hall
,
Tuesday August
A poll released today, commissioned by the National Cannabis Industry Association and conducted by Public Policy Polling, found that a majority of Arizona residents would vote "yes" on an initiative to regulate marijuana in a manner similar to alcohol.
When asked, "If an initiative appeared on a future ballot in Arizona, proposing that marijuana be regulated in a manner similar to alcohol and sold to adults 21 years of age or older in statelicensed stores, would you vote 'yes' in favor of this initiative or 'no' against this initiative?" – 59% stated they would vote "yes" (40% felt strongly, 19% not strongly) and only 36% stated they would oppose the measure (33% strongly feeling so, 3% not so strongly).
The survey also questioned Arizona voters on their current medical marijuana law and found 59% of respondents support the law and only 37% are opposed.
The poll was conducted on January 9th and 10th and surveyed 600 Arizona voters. You can view the full poll here and read the official release from The National Cannabis Industry Association here.
Tags:
Activism
,
alcohol
,
Arizona
,
Association
,
AZ
,
ballot
,
cannabis
,
Industry
,
initiative
,
January
,
law
,
Legalization
,
legalize
,
majority
,
marijuana
,
measure
,
medical
,
medical marijuana
,
National Cannabis Industry Association
,
ncia
,
NORML
,
official
,
poll
,
pot
,
ppp
,
prohibition
,
Public Policy Polling
,
SOCIETY
,
survey
,
vote
,
weed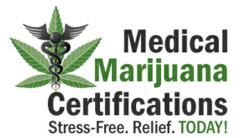 Kingman, AZ (PRWEB) June 14, 2011
Arizona Medical Marijuana Certifications (Arizona MMC), the state?s premier AZ Medical Marijuana center, will be seeing patients in Kingman, AZ June 17-18 at the Holiday Inn Express.
Hours for the evaluations are Friday from 3pm to 8pm and Saturday from 8am to 8pm in the meeting room. The address for the Holiday Inn Express is 3031 E Andy Devine Ave, Kingman, AZ 86401.
The Kingman visit will serve qualified patients in Kingman, Lake Havasu City, and Bullhead City. As a requirement in Arizona, patients need to have an in-person examination from a licensed doctor and a review of the past 12 months of medical records for the qualifying condition.
With the passing of Prop 203, medical marijuana is now legal in Arizona for qualified patients with debilitating medical conditions. Patients with Cancer, Severe Nausea and Vomiting, Chronic Pain, Severe Muscle Spasms, Glaucoma, Hepatitis, HIV or AIDS, Crohn?s Disease, MS or ALS, Cachexia or Wasting Syndrome, or Alzheimer?s Agitation may qualify for an Arizona Medical Marijuana Card.
Most medical marijuana in AZ evaluation centers do not provide the services that Arizona MMC does for its patients. These include the following:
Like Us On Facebook!

TN Ads
Top Nug Categories

TN Ads

NORML